60-ton SP60DS-3XSPR4, Detachable Gooseneck Trailer
Production Description
This is a custom built trailer. Please contact ROGERS for availability.
Feature Photo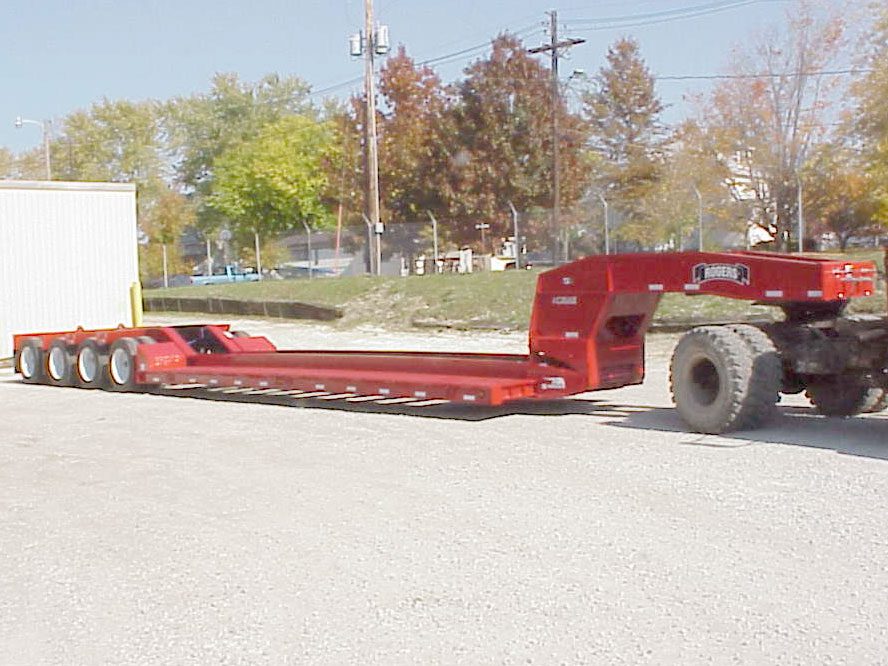 Feature Photo Description
This specialized 60-ton trailer has a detachable gooseneck and features a drop side deck for equipment to ride at a lower overall height.
This is a 3+1 axle configuration: the 4th axle can be removed or flipped onto the rear frame.
Internal Code
SP60DS98/52/25/102/3XSPR4
Trailer Use
Front Loading: Detachable Gooseneck

Load Con Weight
120,000-pounds (54,431 kilograms)
Suspension
75,000 lb. capacity tri-axle heavy-duty spring walking beam

Axle Type
25,000 lbs. capacity with oil-bathed bearings

Tires
275/70R22.5(H) low-profile tubeless radial

Wheels
22.5 x 8.25 10-hole steel disc

Brakes
16 1/2" x 7" shoes, 4S/2M ABS and spring parking brakes

Optional Equipment Bullets
Optional Equipment Link
No Standard Optional Equipment Available
Detail Photo
Detail Bullets

This "No Foot"® non-ground engaging gooseneck is equippped with hydraulic-operated trap doors.

Modified bridge ramps allow a machine to load over the rear frame.

Bearings for removable side brackets are installed to accomodate special sized brackets.

The rear frame has 75,000 lb. capacity spring/walking beam suspension with a removable 4th axle controlled by an air valve.
Request a Quote for 60-ton SP60DS-3XSPR4, Detachable Gooseneck Trailer, Model Code 666-000