50-ton CR50, Detachable Gooseneck Trailer
Production Description
This is a production trailer. Please contact ROGERS for standard availability.
Feature Photo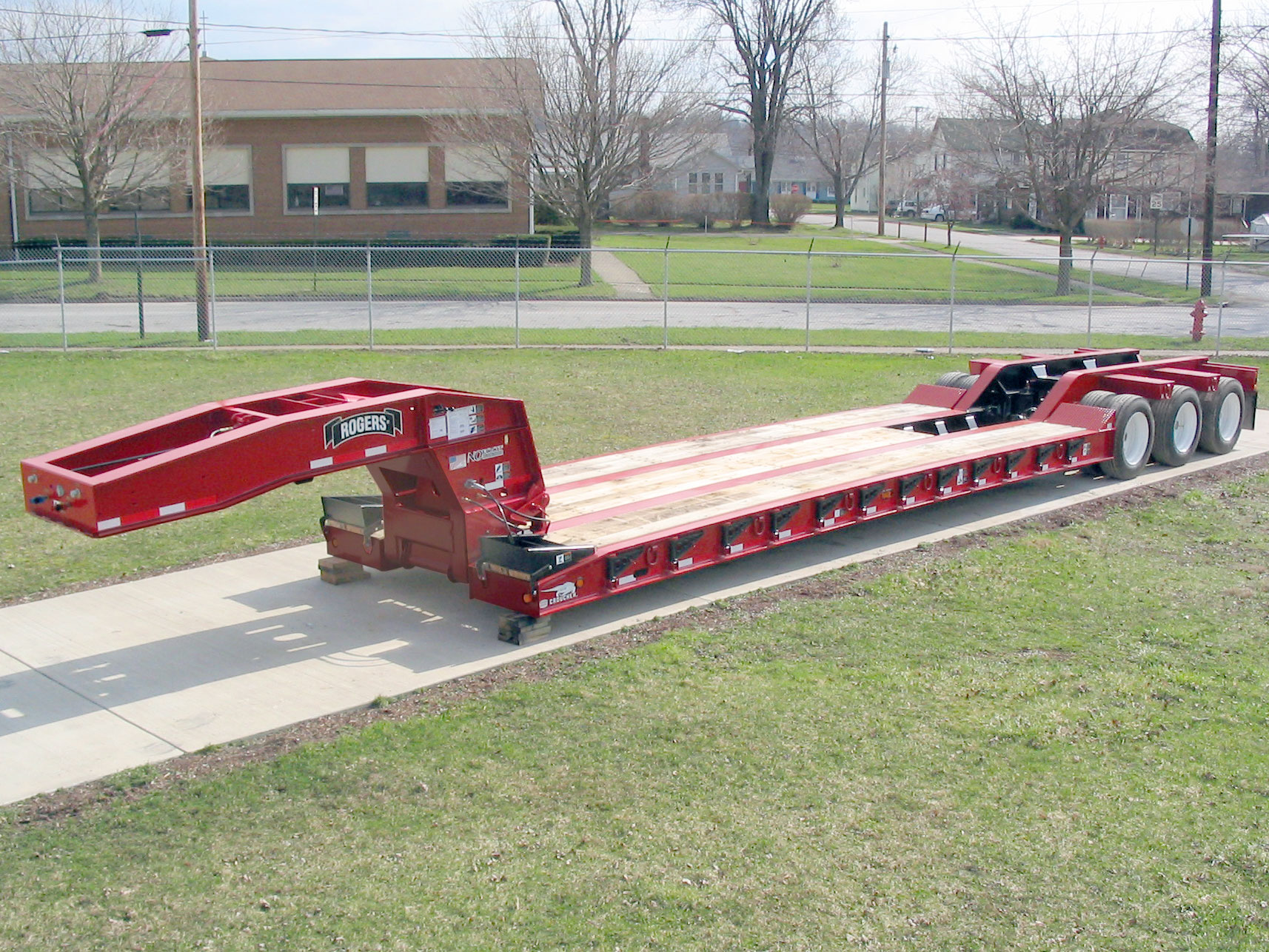 Feature Photo Description
ROGERS® Ultima CR50 is the top of the line lowbed with an unmatched load concentration.
Its low deck height with the "bucket pocket" and "boom trough" give better overhead clearance when hauling an excavator.
Pictured Options: Center boards installed and front folding ramps.
Trailer Use
Front Loading: Detachable Gooseneck

Load Con Weight
100,000-pounds (45,359 kilograms)
Suspension
Air Ride 25,000 lb. capacity per axle

Axle Type
25,000 lbs. capacity with oil-bathed bearings

Tires
255/70R22.5(H) low-profile tubeless radial

Wheels
22.5 x 8.25 10-hole steel disc

Brakes
16 1/2" x 7" shoes, 4S/2M ABS and spring parking brakes

Standard Feature Bullets
"No Foot"® Tower style gooseneck

Trap door extension blocks for adjusting 5th wheel height

Hydraulic gooseneck jack with shoe

Hydraulic power source: Tractor PTO

Four-beam cambered frame design with 14" main beams

Exclusive "Croucher"® low, tapered front deck with concealed beam hooks

Side beam flange reinforcing of first 6'-0" of deck

1 3/4" air-dried oak decking; No center boards

Total (24) removable swinging side brackets

Total (16) bent lashing D's

"Bucket Pocket"

Arch-type rear frame with sloped bridge ramps

"Boom Trough"

Trunnions between wheels

LED lights: US DOT-approved 12-volt rubber-mounted with sealed wiring and 7-wire socket

Remote air tank drain

Flag holders

Epoxy primer; Rogers Red or Black industrial enamel finish coat: (hover to see samples)
Optional Equipment Bullets
Gooseneck fenders

13 HP gas engine power unit with the controls relocated to side of gooseneck

Hydraulic trap doors

Gooseneck toolbox with lockable steel lid

Spare tire carrier

Deck toolbox with oak wood lid -OR- lockable steel lid

Front folding ramps -OR- Laterally adjustable front folding ramps

Side beam flange reinforcing of full length of deck

Center boards installed -OR- loose with spring hold-downs

Reinforced 1/4" smooth plate wheel covers with traction bars

Additional bent or flat lashing D's

Aluminum disc wheels

Larger 275/70R radial tires

Air exhaust valve for all axles

Axle air lift

Removable 4th axle

US DOT-approved safety light system with "deep cycle" battery

Backup warning alarm, mechanical or electronic

Other Rogers finish colors: (hover to see samples)
Detail Photo
Detail Bullets

ROGERS exclusive "Croucher"® front deck design has beams tapered top and bottom for an extra low loading angle; and concealed beam hooks ease worry about loading damages.

Pictured Option: Loose center boards with spring hold-downs; and front folding r

When hauling an excavator, the "bucket pocket" and the "boom trough" create an open design that helps lower the clearance height.

The "No Foot"® Tower style gooseneck has heavy-duty lifting capacity to easily handle a loaded trailer.

The gooseneck's built-in "hat box" fits over the fifth wheel to give turning clearance for tractor fenders.

CR50's tri-axle rear frame.

Pictured Options: Air lift on the 3rd axle, wheel covers, and aluminum wheels.
Request a Quote for 50-ton CR50, Detachable Gooseneck Trailer, Model Code 578-015