100-ton SP100DS, Detachable Rear Trailer
Production Description
This is a custom built trailer. Please contact ROGERS for availability.
Feature Photo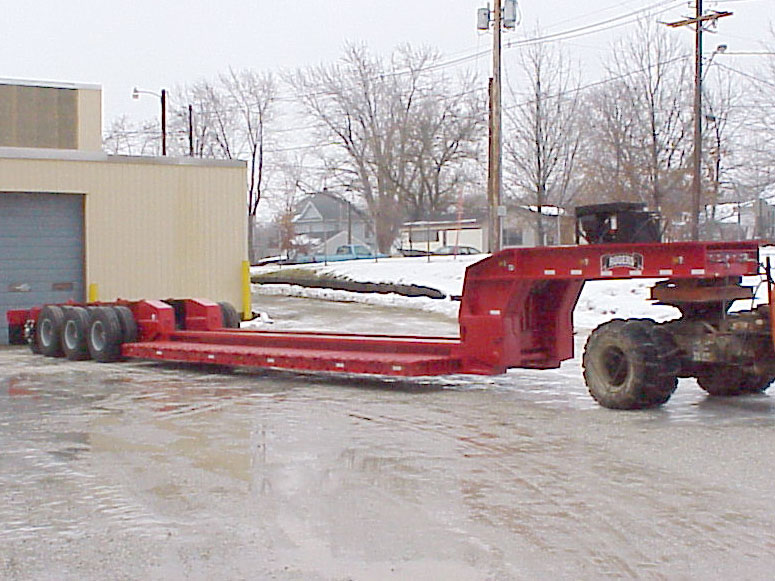 Feature Photo Description
This SP100DS is a 100-ton capacity drop side deck lowbed with a detachable rear frame – deck styles can be interchanged.
Its running gear is 3 axles on heavy-duty spring/walking beam suspension and a removable 4th axle on air ride suspension.
Internal Code
SP100DS110/58/28/120/4XDRSPR4
Load Con Weight
200,000-pounds (90,718 kilograms)
Suspension
90,000 lb. capacity tri-axle severe-duty spring walking beam

Axle Type
30,000 lbs. capacity with oil-bathed bearings

Wheels
20" spoke type with 20 x 8.00 rims

Brakes
16 1/2" x 7" shoes, 4S/2M ABS and spring parking brakes

Optional Equipment Bullets
Optional Equipment Link
No Standard Optional Equipment Available
Detail Photo
Detail Bullets

The powerful ram-foot gooseneck uses low hydraulic pressure to lift a load.

Customer specified a 16 HP gas engine installed.

The beam hooks rest on solid steel shafts at the base of the gooseneck.

The ram-foot gooseneck is equipped with customer specified clearance lights, and a hydraulic selector valve to choose power from the gas engine or a tractor's wet line.

The drop side deck is 3/8" steel tread plate, and the side pockets are for heavy-duty removable side brackets.

When not used, the side brackets are stored in the deck between the main beams.

The detachable rear frame has a "boom trough" through the center to give an excavator's boom a place to ride lower on the trailer.

Tie-downs can be secured to the lashing D's on the front and top of the beams.
Request a Quote for 100-ton SP100DS, Detachable Rear Trailer, Model Code 115-002