65-ton FG65L-3X, Specialized Trailer
Production Description
This is a custom built trailer. Please contact ROGERS for availability.
Feature Photo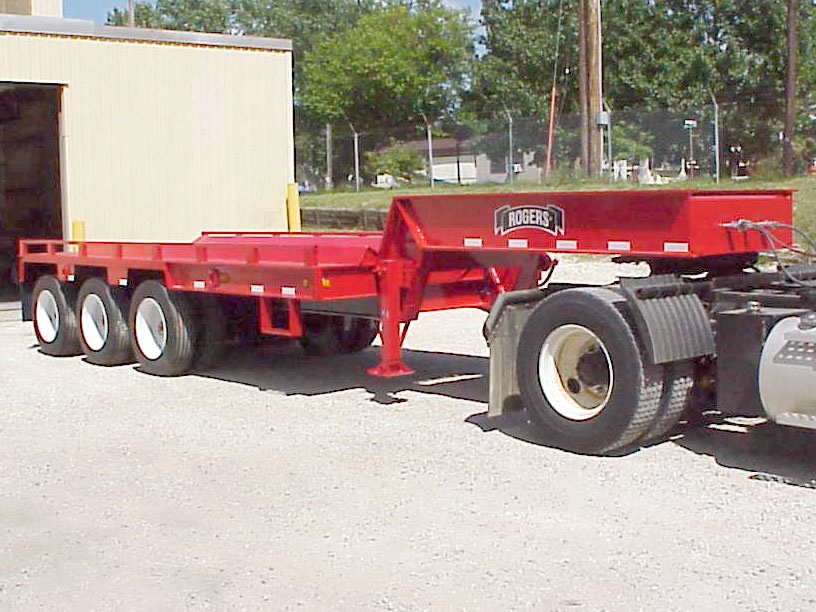 Feature Photo Description
This 65-ton ROGERS fixed gooseneck trailer is designed to carry steel coils between processing areas of a steel mill.
It has a 3-axle heavy-duty spring/walking beam suspension and large 275/70R H(16) tires.
Load Con Weight
130,000-pounds (58,967 kilograms)
Suspension
90,000 lb. capacity tri-axle severe-duty spring walking beam

Axle Type
30,000 lbs. capacity with oil-bathed bearings

Tires
275/70R22.5(H) low-profile tubeless radial

Wheels
22.5 x 8.25 10-hole steel disc

Brakes
16 1/2" x 7" shoes, 4S/2M ABS and spring parking brakes

Optional Equipment Bullets
Optional Equipment Link
No Standard Optional Equipment Available
Detail Photo
Detail Bullets

The deck contains a well designed to haul a variety of steel coil sizes positioned length-wise for efficient use of the space.

The steel deck along the sides of the well enables the operator to easily access the coil(s).

A safety step and side rails are installed to customer specification.

Heavy-duty two-speed landing gear makes parking easier and has a higher static load capacity than standard pin-type legs.
Request a Quote for 65-ton FG65L-3X, Specialized Trailer, Model Code 680-000