55-ton SP55DS-BA-R4, Detachable Gooseneck Trailer
Production Description
This is a custom built trailer. Please contact ROGERS for availability.
Feature Photo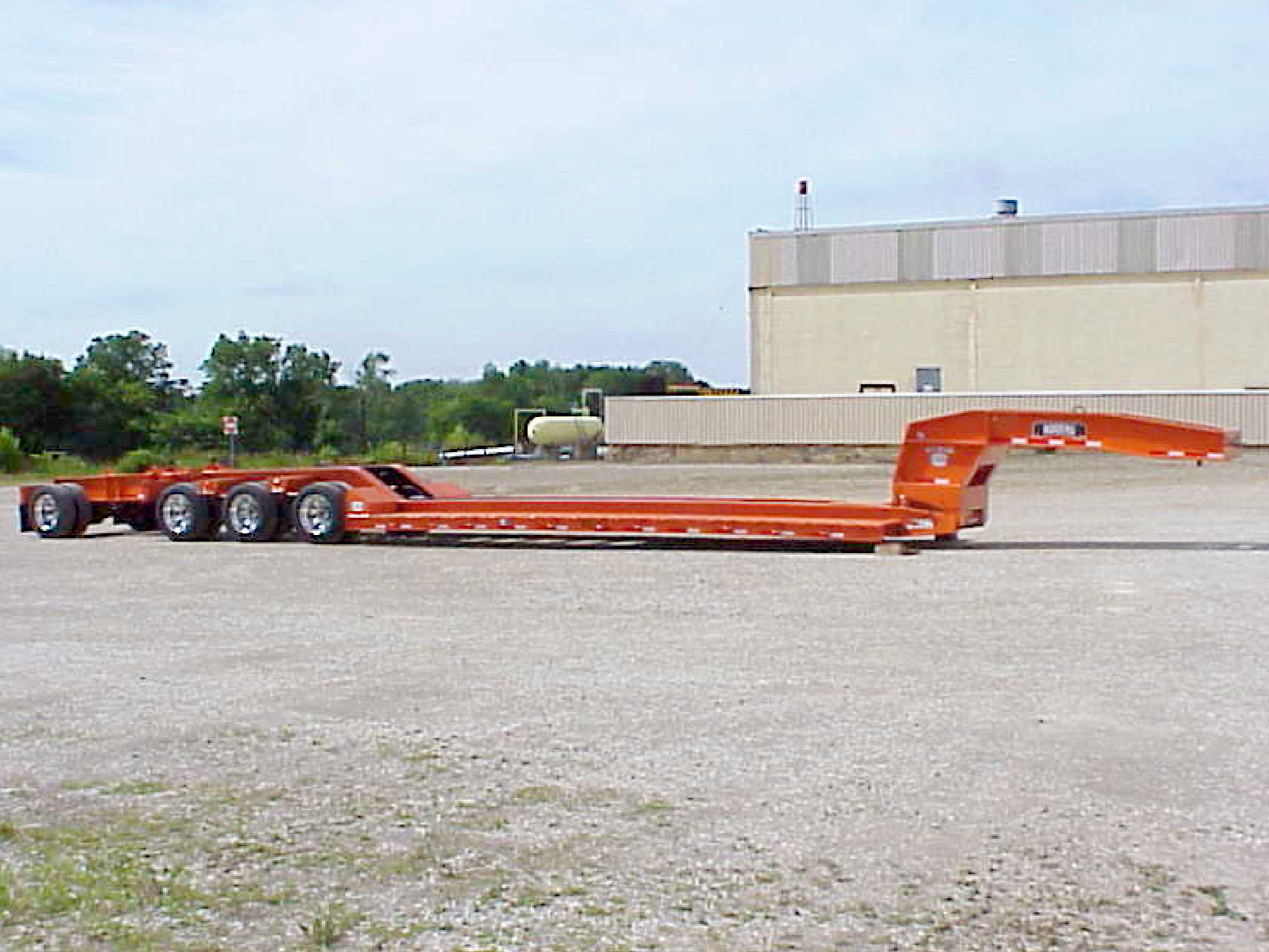 Feature Photo Description
This 55-ton capacity ROGERS specialized lowboy features a 3 + 1 axle configuration to meet certain state weight law restrictions.
The patented "No Foot"® gooseneck is designed to use low hydraulic pressures to lift the load without having to shift its position on the deck.
The cambered drop side deck height can be as low as 15" in the normal ride condition.
Internal Code
SP55DS110/52/25/102/3XARBARR4
Trailer Use
Front Loading: Detachable Gooseneck

Load Con Weight
110,000-pounds (49,895 kilograms)
Suspension
Air Ride 25,000 lb. capacity per axle

Axle Type
25,000 lbs. capacity with oil-bathed bearings

Tires
275/70R22.5(H) low-profile tubeless radial

Wheels
22.5 x 8.25 aluminum outside/steel inside

Brakes
16 1/2" x 7" shoes, 4S/2M ABS and spring parking brakes

Optional Equipment Bullets
Optional Equipment Link
No Standard Optional Equipment Available
Detail Photo
Detail Bullets

This booster axle assembly is designed so the trailing axle can be unpinned and connected directly to the trailer.

The booster creates up to a 14'-1" spread between the center of the last rear axle and the trailing axle.

Customer specified aluminum dis

Lowered cross members in the rear frame, the "boom trough," offer lower transport of large excavators.

The drop side design has tread plate instead of wood for lower deck height.

The special bridge ramps helps scrapers "climb" on to the rear frame.

The booster axle assembly has a pivoting "knuckle" which enables the trailing axle to swivel for better maneuvering.

The pivot point is close to the trailer to increase the turning radius and reduce tire scuffing.

Two large pins can be placed to lock

The toolbox in the deck with a lockable steel cover holds removable side brackets.
Request a Quote for 55-ton SP55DS-BA-R4, Detachable Gooseneck Trailer, Model Code 660-000