80-ton SP80DS-3XDRSP, Detachable Gooseneck Trailer
Production Description
This is a custom built trailer. Please contact ROGERS for availability.
Feature Photo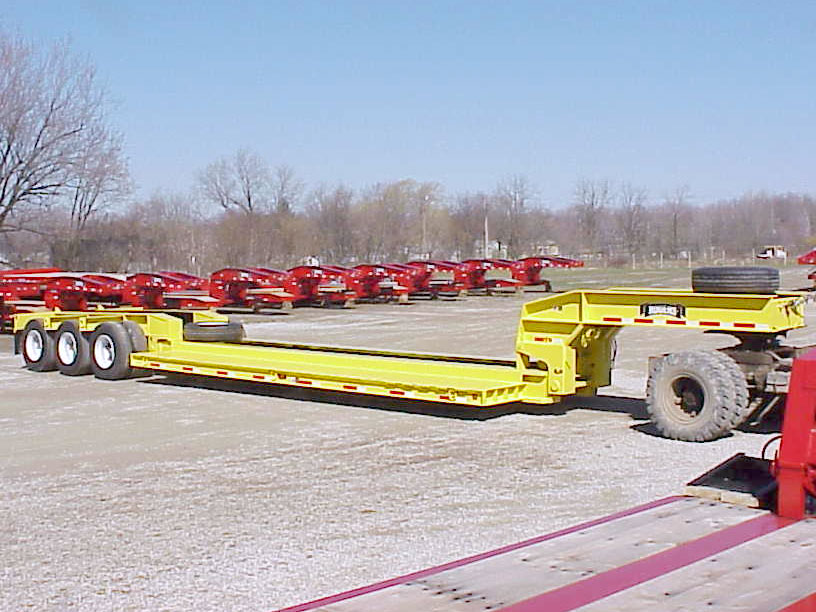 Feature Photo Description
This 80-ton lowboy is a specialized trailer featuring a drop side deck with a detachable rear frame and a powerful ram-foot style detachable gooseneck.
Internal Code
SP80DS98/55/25/120/3XDRSP
Load Con Weight
160,000-pounds (72,575 kilograms)
Suspension
90,000 lb. capacity tri-axle severe-duty spring walking beam

Axle Type
30,000 lbs. capacity with oil-bathed bearings

Tires
315/80R22.5(L) low-profile tubeless radial

Wheels
20" spoke type with 22.5 x 9.00 rims

Brakes
16 1/2" x 7" shoes, 4S/2M ABS and spring parking brakes

Optional Equipment Bullets
Optional Equipment Link
No Standard Optional Equipment Available
Detail Photo
Detail Bullets

The rear frame is equipped with a severe-duty tri-axle spring/walking beam suspension and spoke type wheels.

The large outriggers have lashing D's on each end for securing tie downs.

The ROGERS detachable rear frame has beam hooks that rest on large cross shafts.

It uses no bolts and nuts to hold it together.

The powerful ram foot gooseneck can lift the load placed anywhere on the deck.
Request a Quote for 80-ton SP80DS-3XDRSP, Detachable Gooseneck Trailer, Model Code 057-000