60-ton SP60DS-4XAR, Detachable Gooseneck Trailer
Production Description
This is a custom built trailer. Please contact ROGERS for availability.
Feature Photo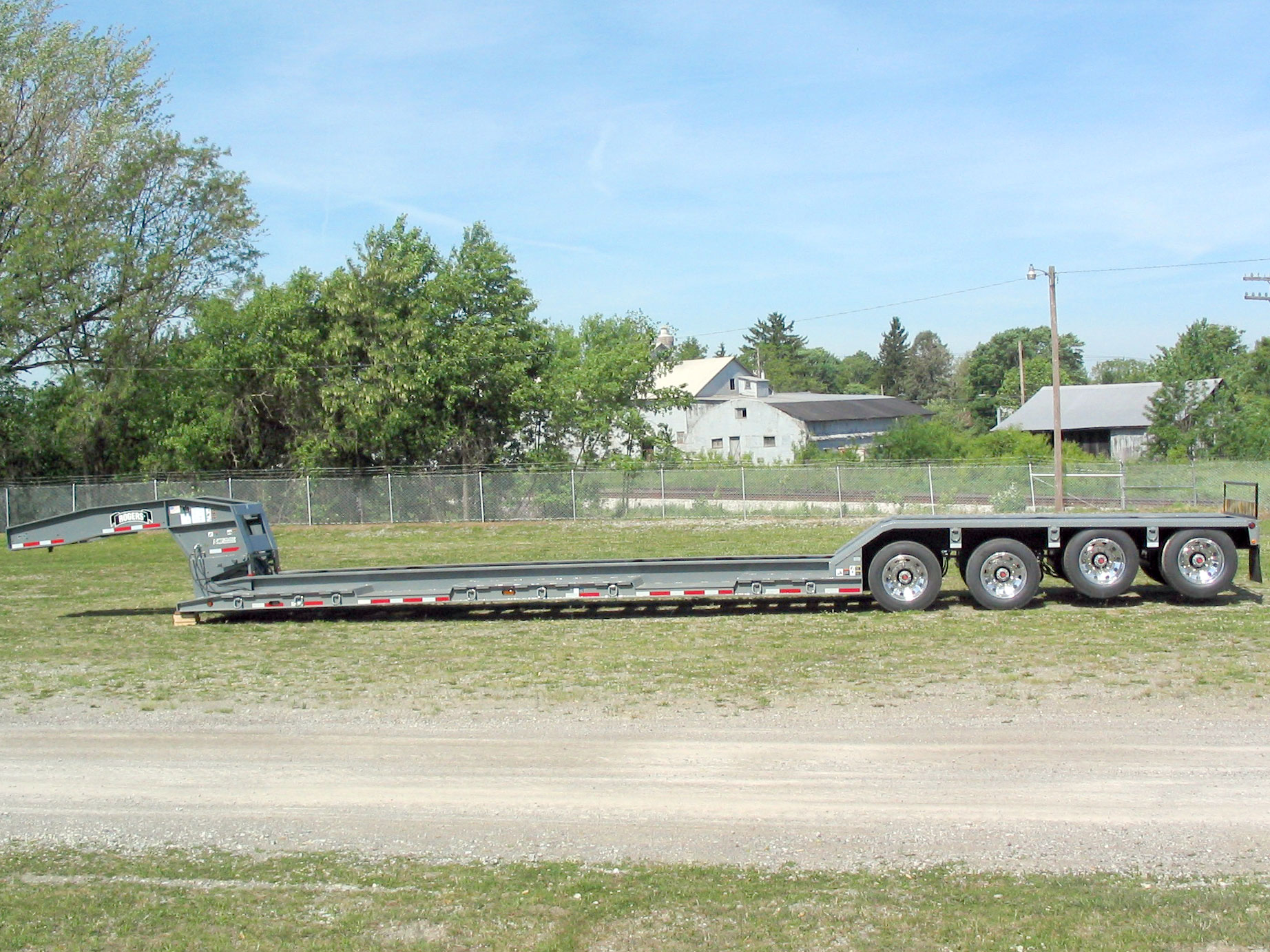 Feature Photo Description
This ROGERS trailer features a cambered drop side deck designed to carry 60 tons in 1/2 its deck length.
The deck has a front end taper and a modified ramp ahead of the tires – both make loading simpler.
The patented "No Foot"® gooseneck with a heavy lift package can pick up the load anywhere on the deck.
Trailer Use
Front Loading: Detachable Gooseneck

Load Con Weight
120,000-pounds (54,431 kilograms)
Suspension
Air Ride 25,000 lb. capacity per axle

Axle Type
25,000 lbs. capacity with oil-bathed bearings

Tires
275/70R22.5(H) low-profile tubeless radial

Wheels
22.5 x 8.25 aluminum outside/steel inside

Brakes
16 1/2" x 7" shoes, 4S/2M ABS and spring parking brakes

Optional Equipment Bullets
Optional Equipment Link
No Standard Optional Equipment Available
Detail Photo
Detail Bullets

An air lift is installed on the 3rd and 4th axles -- when loaded this device is the same level as the cross members.

For traveling empty, the air lift can raise the last two axles 4" off the ground which saves on fuel and tire wear.

The ramps to the level rear frame allow carrying certain machines over the rear frame.

The wheel covers are made of reinforced 1/4" tread plate.

ROGERS award-winning wheel wells give an extra 4" of overhead clearance for carrying large, rubber-tired machines.

An excavator's boom and stick can knuckle down in the "boom trough" and these lowered cross members in the deck center.

The reversible sign, OVERSIZE LOAD / WIDE LOAD, is built and installed at the the factory.
Request a Quote for 60-ton SP60DS-4XAR, Detachable Gooseneck Trailer, Model Code 666-014