60-ton SP60DS-R4, Detachable Gooseneck Trailer
Production Description
This is a custom built trailer. Please contact ROGERS for availability.
Feature Photo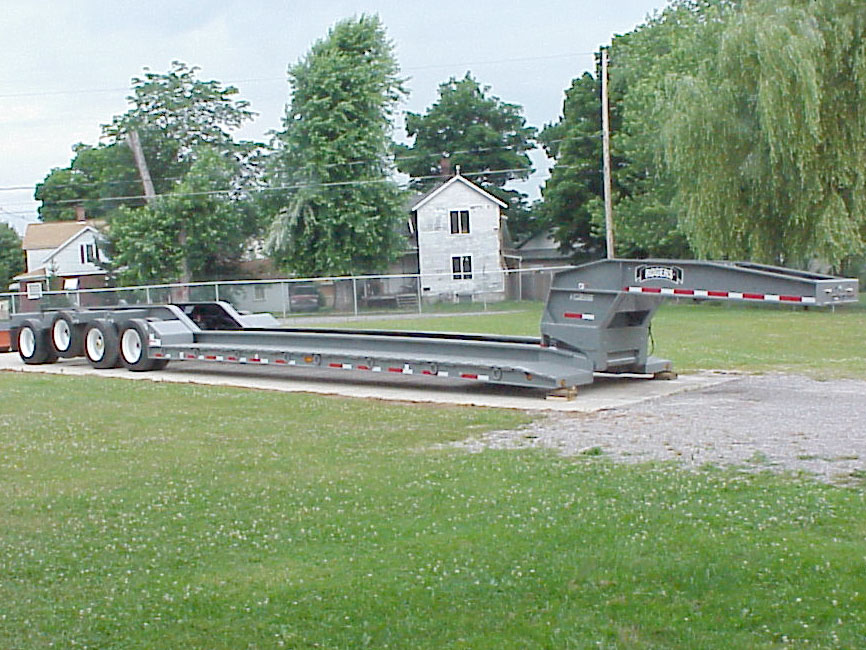 Feature Photo Description
This specialized lowboy has a cambered drop side deck designed to carry 60 tons in 1/2 of its deck length.
The front end's taper and the modified ramp ahead of the tires – both assist loading.
The patented "No Foot"® gooseneck with a heavy lift package can pick up its load located anywhere on the deck.
Internal Code
SP60DS98/51/25/108/3XARR4
Trailer Use
Front Loading: Detachable Gooseneck

Load Con Weight
120,000-pounds (54,431 kilograms)
Suspension
Air Ride 25,000 lb. capacity per axle

Axle Type
25,000 lbs. capacity with oil-bathed bearings

Tires
275/70R22.5(H) low-profile tubeless radial

Wheels
22.5 x 8.25 10-hole steel disc

Brakes
16 1/2" x 7" shoes, 4S/2M ABS and spring parking brakes

Optional Equipment Bullets
Optional Equipment Link
No Standard Optional Equipment Available
Detail Photo
Detail Bullets

This trailer has air ride suspension, air lift on the 3rd axle and a removable 4th axle - which can be flipped onto the rear.

The design of the 3rd and 4th axles gives maximum capacity when needed, and fuel and tire savings when not.

Plenty of storage area in the deck for the removable side brackets.

The LED lights package includes large 7" diameter amber lights for a specific "WIDE LOAD" designation.
Request a Quote for 60-ton SP60DS-R4, Detachable Gooseneck Trailer, Model Code 666-007