55-ton SP55PL, Detachable Gooseneck Trailer
Production Description
This is a custom built trailer. Please contact ROGERS for availability.
Feature Photo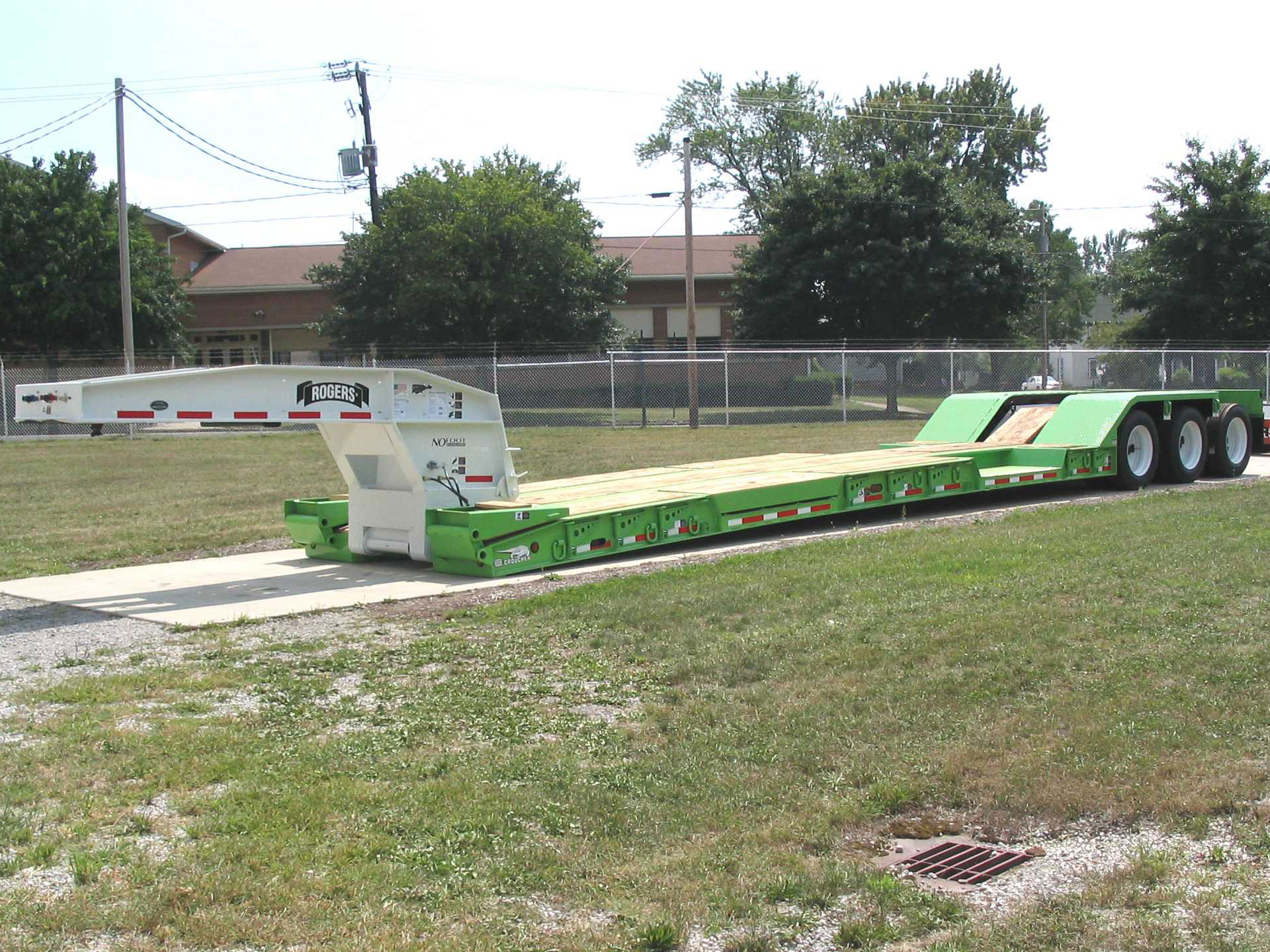 Feature Photo Description
This Specialized ROGERS 55-ton capacity trailer has the exclusive "Croucher"® platform deck featuring the award winning wheel wells.
This is a multi-use lowboy capable of carrying excavators, rubber-tired loaders, or milling machines just by removing the deck inserts.
Trailer Use
Front Loading: Detachable Gooseneck

Load Con Weight
110,000-pounds (49,895 kilograms)
Suspension
Air Ride 25,000 lb. capacity per axle

Axle Type
25,000 lbs. capacity with oil-bathed bearings

Tires
275/70R22.5(H) low-profile tubeless radial

Wheels
22.5 x 8.25 10-hole steel disc

Brakes
16 1/2" x 7" shoes, 4S/2M ABS and spring parking brakes

Optional Equipment Bullets
Optional Equipment Link
No Standard Optional Equipment Available
Detail Photo
Detail Bullets

This special design of ROGERS wheel wells in a platform deck allows a rubber-tired machine an extra 10" of overhead clearance while providing the platform deck needed to haul a milling machine or excavator.

Special "fillers" were made for the two forward wheel wells to facilitate loading an excavator.

The rear frame is designed with reinforced tread plate wheel covers and removable wood-covered inserts to provide extra traction for track-style milling machines.

The "No Foot"® gooseneck can be adjusted for the height of the towing tractor.

Bi-fold front loading ramps assist loading large machines easily.


Request a Quote for 55-ton SP55PL, Detachable Gooseneck Trailer, Model Code 661-005