60-ton SP60GR-3XSPR4, Detachable Gooseneck Trailer
Production Description
This is a custom built trailer. Please contact ROGERS for availability.
Feature Photo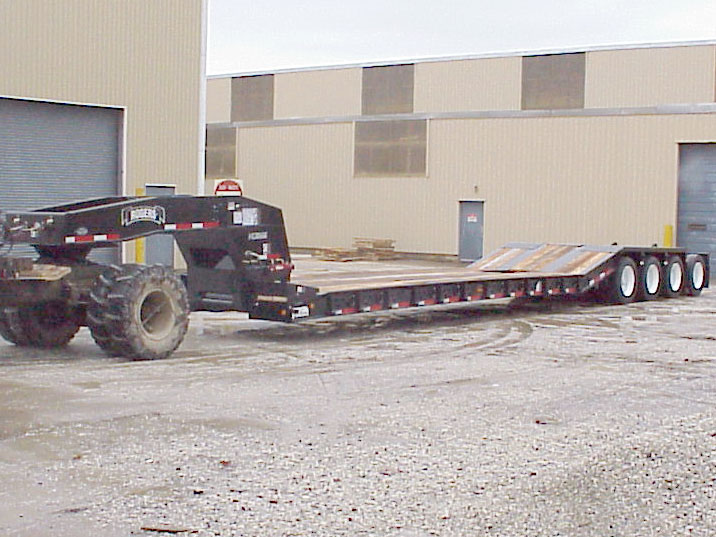 Feature Photo Description
This ROGERS 60-ton capacity trailer features the "Gentle Riser" deck which makes this lowboy ideal for carrying multiple machines.
Trailer Use
Front Loading: Detachable Gooseneck

Load Con Weight
120,000-pounds (54,431 kilograms)
Suspension
75,000 lb. capacity tri-axle heavy-duty spring walking beam

Axle Type
25,000 lbs. capacity with oil-bathed bearings

Tires
275/70R22.5(H) low-profile tubeless radial

Wheels
22.5 x 8.25 10-hole steel disc

Brakes
16 1/2" x 7" shoes, 4S/2M ABS and spring parking brakes

Optional Equipment Bullets
Detail Photo
Detail Bullets

This patented "No Foot"® Tower Style self-lifting gooseneck also has hydraulic trap doors to assist with quick and easy detaching.

The last three cross members of the deck have been notched to make a "bucket pocket."

It's for an excavator to knuckle under and have more overhead clearance.

The "Gentle Riser" – 16° riser slope – enables a machine to be loaded onto the rear frame.

This rear frame has customer-specified flush wheel covers over the tri-axle.

A removable axle like this is used in U.S. states where a 4th axle is required to carry 60 tons.

It has a hand control valve to adjust the air pressure to equalize the overall weight with this axle.

The toolbox in the deck can hold chains, blocks and binders when not needed with trailer loads.
Request a Quote for 60-ton SP60GR-3XSPR4, Detachable Gooseneck Trailer, Model Code 669-004