60-ton SP60GR-3XARR4, Detachable Gooseneck Trailer
Production Description
This is a custom built trailer. Please contact ROGERS for availability.
Feature Photo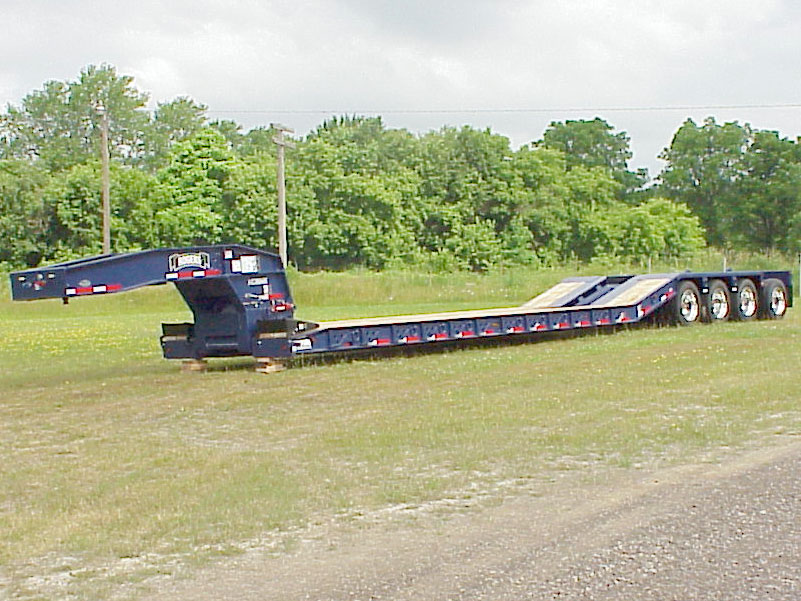 Feature Photo Description
This ROGERS® SP60GR is a 60-ton capacity lowboy equipped with the patented "No Foot"® detachable gooseneck and a 20" loaded platform.
The rear frame features the 16º "Gentle Riser" with 3 fixed axles and a removable 4th axle.
Internal Code
SP60GR98/51/26/102/3XARR4
Trailer Use
Front Loading: Detachable Gooseneck

Load Con Weight
120,000-pounds (54,431 kilograms)
Suspension
Air Ride 25,000 lb. capacity per axle

Axle Type
25,000 lbs. capacity with oil-bathed bearings

Tires
275/70R22.5(H) low-profile tubeless radial

Wheels
22.5 x 8.25 aluminum outside/steel inside

Brakes
16 1/2" x 7" shoes, 4S/2M ABS and spring parking brakes

Optional Equipment Bullets
Detail Photo
Detail Bullets

The "No Foot"® gooseneck comes complete with a built-in "hat box" (the slight slope on the underside) for tractor fender clearance and a hydraulic jack that contacts the tractor's frame rails.

Powerful hydraulic cylinders allow the rated load to be lifted anywhere on the deck using low hydraulic pressures.

There is no need to use a gas engine or a special 3,000 psi PTO to detach this trailer.

Notched cross members in the main deck for better overhead clearance of of an excavator's boom.

The recessed cover plate in the center rear frame reduces road spray.

Wood-covered toolboxes provide storage in the deck for chains and blocks.

This space also has stores the battery for the self-powered auxiliary light system.

The tri-axle has reinforced tread plate wheel covers.

A Removable 4th axle helps the trailer meet state weight regulations where needed.

ROGERS blue enamel finish.
Request a Quote for 60-ton SP60GR-3XARR4, Detachable Gooseneck Trailer, Model Code 669-006