35-ton SP35SL, Detachable Gooseneck Trailer
Production Description
This is a custom built trailer. Please contact ROGERS for availability.
Feature Photo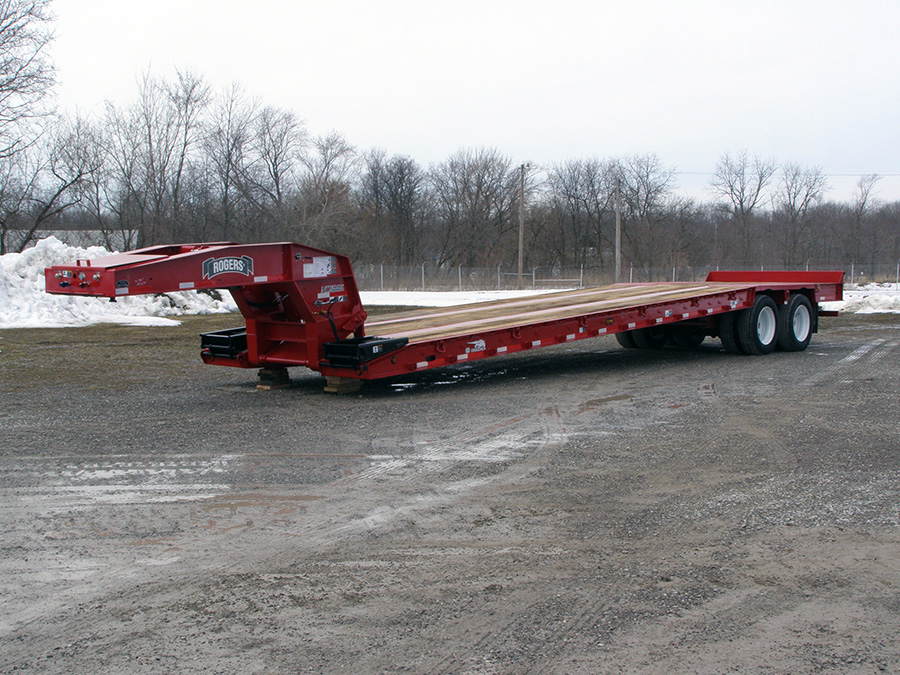 Feature Photo Description
This 35-ton Sloper is noted for the deck with a gradual 5º incline which makes it a great working companion for paving equipment.
The level rear frame is 10'-6" long including a 49" extension and reinforced 1/4" tread plate wheel covers.
Internal Code
SP35SL86/52/38/102/2XARRL
Trailer Use
Front Loading: Detachable Gooseneck

Load Con Weight
70,000-pounds (31,751 kilograms)
Suspension
Air Ride 25,000 lb. capacity per axle

Axle Type
25,000 lbs. capacity with oil-bathed bearings

Tires
255/70R22.5(H) low-profile tubeless radial

Wheels
22.5 x 8.25 10-hole steel disc

Brakes
16 1/2" x 7" shoes, 4S/2M ABS and spring parking brakes

Standard Feature Bullets
No Foot Direct-Push style detachable gooseneck


Exclusive Croucher low, tapered fron with concealed beam hooks

Trap door extension blocks for adjusting 5th wheel height

Hydraulic power source: Tractor PTO

Full 2-inch air-dired oak decking

Lashing D's (5) each side of deck

Side bracket bearings only

US DOT-approved rear impact guard

Cable pull remote for air tank drain

Anti-lock Braking System

US DOT-approved LED rubber-mounted lights with sealed wiring and 7-wire socket

Rogers red or black industrial enamel finish coat
Optional Equipment Bullets
Gooseneck fenders


Gas engine power unit with or without relocated controls

Front folding ramps

Bi-fold front folding ramps

Laterally adjustable front folding ramps

Swinging side brackets

Gooseneck toolbox with steel lid

Deck toolbox with steel or wood lid

Vetical rear bumper guide

Safety Light System with deep cycle battery

Aluminum disc wheels

Larger 275/70R radial tires

Spare tire holder

Backup alarm

Other Rogers finish colors: orange, yellow, green, gray, white
Detail Photo
Detail Bullets

The level rear extension adds 49-inches of loading space to the deck without increasing the wheel base.

A vertical bumper guide welded to the rear channel is a visual guide to the back edge of the deck.

Air ride suspension has a mechanical height control.

Safety features include reflective striping, flag holders, and a US DOT certified rear impact guard.

ROGERS red enamel finish.

Optional NYS-DOT 7" amber lights shown.
Request a Quote for 35-ton SP35SL, Detachable Gooseneck Trailer, Model Code 635-004