35-ton FG35D-3XRS, Specialized Trailer
Production Description
This is a custom built trailer. Please contact ROGERS for availability.
Feature Photo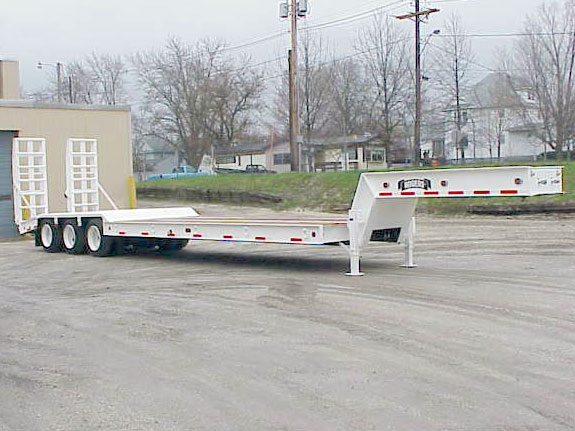 Feature Photo Description
This 35-ton fixed gooseneck trailer has pin type landing gear, 22'-0" deck and hydraulic powered ladder-style ramps.
Customer specified additional clearance lights on the sides of the deck and gooseneck, and ROGERS white color finish.
Trailer Use
Rear Loading: Fixed Gooseneck

Load Con Weight
70,000-pounds (31,751 kilograms)
Suspension
Air Ride 25,000 lb. capacity per axle

Axle Type
25,000 lbs. capacity with oil-bathed bearings

Tires
255/70R22.5(H) low-profile tubeless radial

Wheels
22.5 x 8.25 10-hole steel disc

Brakes
16 1/2" x 7" shoes, 4S/2M ABS and spring parking brakes

Optional Equipment Bullets
Detail Photo
Detail Bullets

The deck has 2" air-dired oak, and the rear frame has reinforced 3/8" tread plate wheel covers.

Air ride suspension has mechanical height control that can adjust the deck ± 1" to 3".

The rear ramps (96" L x 36" W) are attached to the 48" beavertail and provide a 10° loading incline.

The hydraulic ramps are powered by the tractor's PTO, and the control is in the beavertail (on left).

The control for the air lift on the 3rd axle is also located in the beavertail (on right).
Request a Quote for 35-ton FG35D-3XRS, Specialized Trailer, Model Code 636-000