100-ton SP100-4XDRR4, Detachable Rear Trailer
Production Description
This is a custom built trailer. Please contact ROGERS for availability.
Feature Photo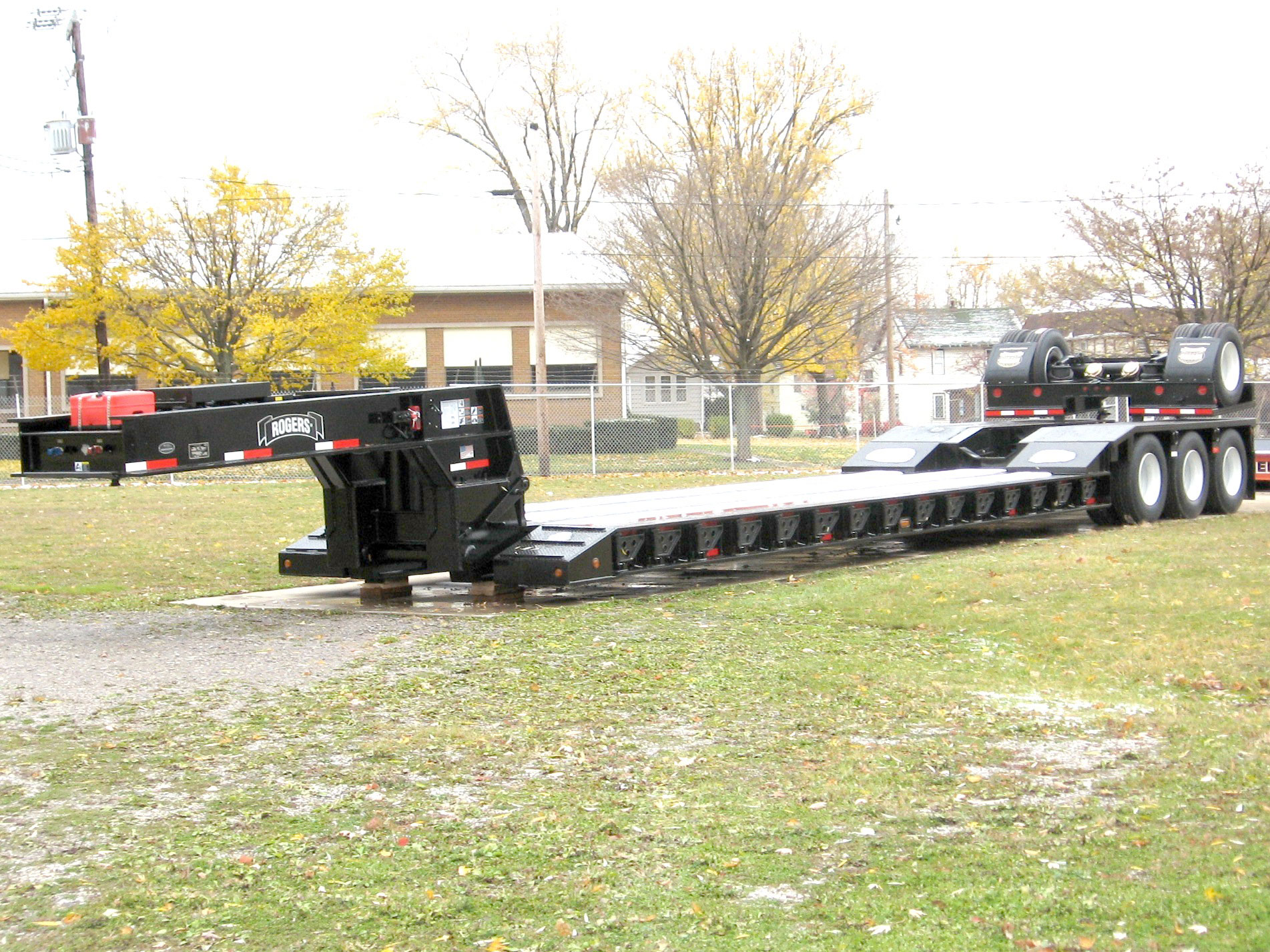 Feature Photo Description
This high performance 100-ton ROGERS trailer has a detachable ground-engaging ram foot gooseneck, a detachable rear frame, and a "flipped" removable 4th axle.
The steel-covered front slope of the deck has grouser bars for traction.
Removable steel bridge ramps aid in loading equipment over the rear frame.
Internal Code
SP100PL110/54/30/120/4XDRSPR4
Load Con Weight
200,000-pounds (90,718 kilograms)
Suspension
90,000 lb. capacity tri-axle severe-duty spring walking beam

Axle Type
30,000 lbs. capacity with oil-bathed bearings

Tires
315/80R22.5(L) low-profile tubeless radial

Wheels
22.5 x 9.00 10-hole steel disc

Brakes
16 1/2" x 7" shoes, 4S/2M ABS and spring parking brakes

Optional Equipment Bullets
Optional Equipment Link
No Standard Optional Equipment Available
Detail Photo
Detail Bullets

The gooseneck has a self-contained 18 HP gas engine with an independent gas tank (red container) and a tire carrier located on top (pictured without a tire).

The three fixed axles have spring/walking beam suspensions, and the removable 4th axle has air ride suspension.

Other specifications include: a LED light package, a mechincal backup alarm (on middle fixed axle) and steel wheel covers made of reinforced 1/4" tread plate.

The severe-duty removable side brackets can swing out to hold additional oak planks and widen the deck by a foot on each side, or for a total width of 12'-0".
Request a Quote for 100-ton SP100-4XDRR4, Detachable Rear Trailer, Model Code 116-000