75-ton SP75DS-4XAR, Detachable Gooseneck Trailer
Production Description
This is a custom built trailer. Please contact ROGERS for availability.
Feature Photo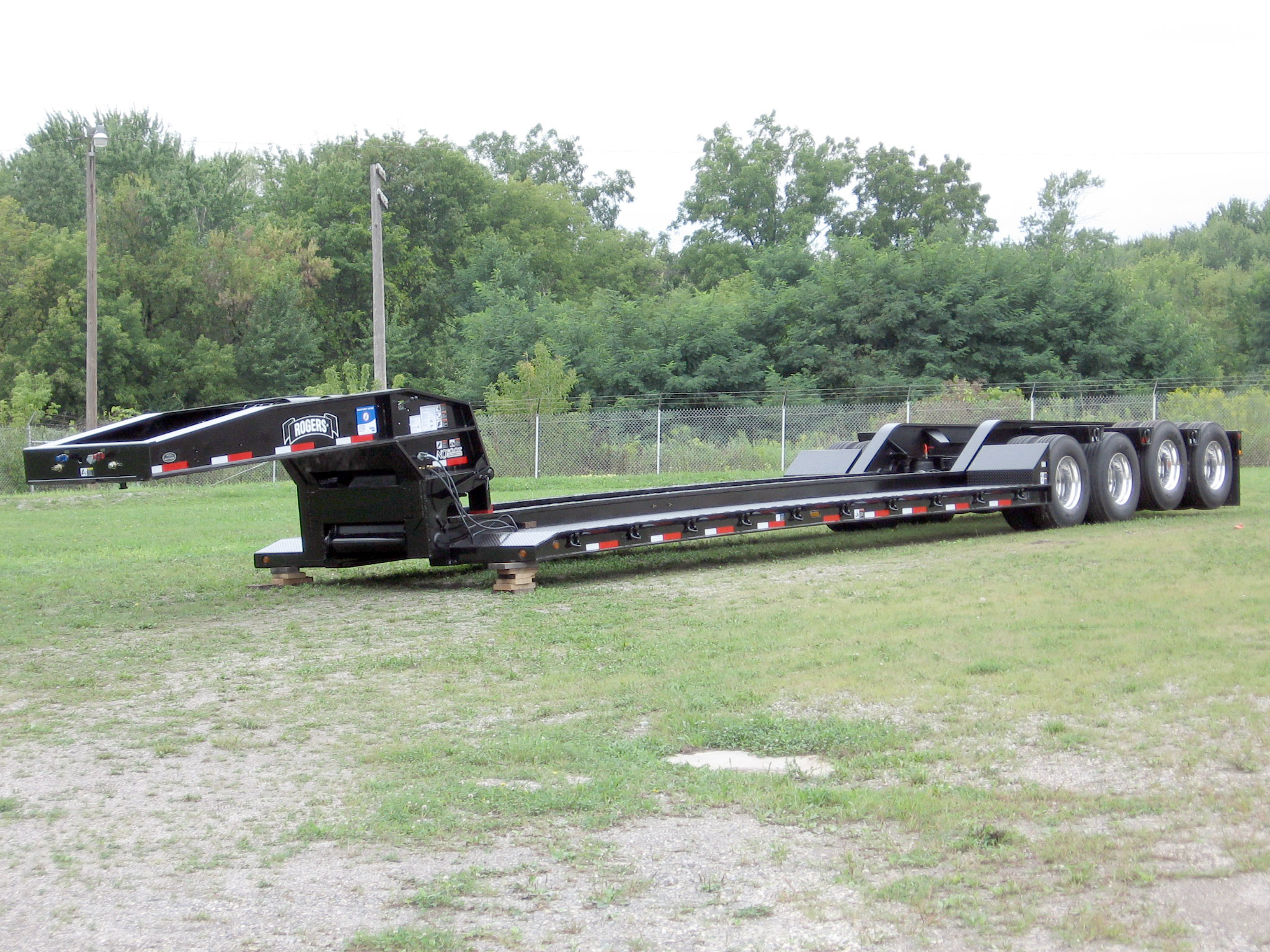 Feature Photo Description
This 75-ton lowbed has the powerful "No Foot"® detachable gooseneck, drop side deck of 1/4" tread plate, and sloped bridge ramps before the tires.
Its load concentration is 150,000 lb. in 14'-0" – half the length of the deck.
Trailer Use
Front Loading: Detachable Gooseneck

Load Con Weight
150,000-pounds (68,039 kilograms)
Suspension
Air Ride 25,000 lb. capacity per axle

Axle Type
25,000 lbs. capacity with oil-bathed bearings

Tires
315/80R22.5(L) low-profile tubeless radial

Wheels
22.5 x 9.00 10-hole aluminum disc

Brakes
16 1/2" x 7" shoes, 4S/2M ABS and spring parking brakes

Optional Equipment Bullets
Optional Equipment Link
No Standard Optional Equipment Available
Detail Photo
Detail Bullets

This "No Foot"® is the strong Tower Style non-ground engaging gooseneck.

The sloped front end of the main beams is 1/4" tread plate.

The "No Foot"® Tower Style has two large cylinders that provide the needed lifting power at low hydraulic pressures.

The 4-axle rear frame is equipped with air ride suspension.

Air lifts on the 3rd and 4th axles enable the empty trailer to ride on just the first two axles. Air lifts save on tire wear and improve fuel efficiency.

Aluminum disc wheels save weight and "

A low, wide "boom trough" makes a loading space for an excavator's boom and increases overhead clearance.

LED lights and a rear impact guard complete this trailer.
Request a Quote for 75-ton SP75DS-4XAR, Detachable Gooseneck Trailer, Model Code 022-002