100-ton SP100PL-4XDRCS, Detachable Rear Trailer
Production Description
This is a custom built trailer. Please contact ROGERS for availability.
Feature Photo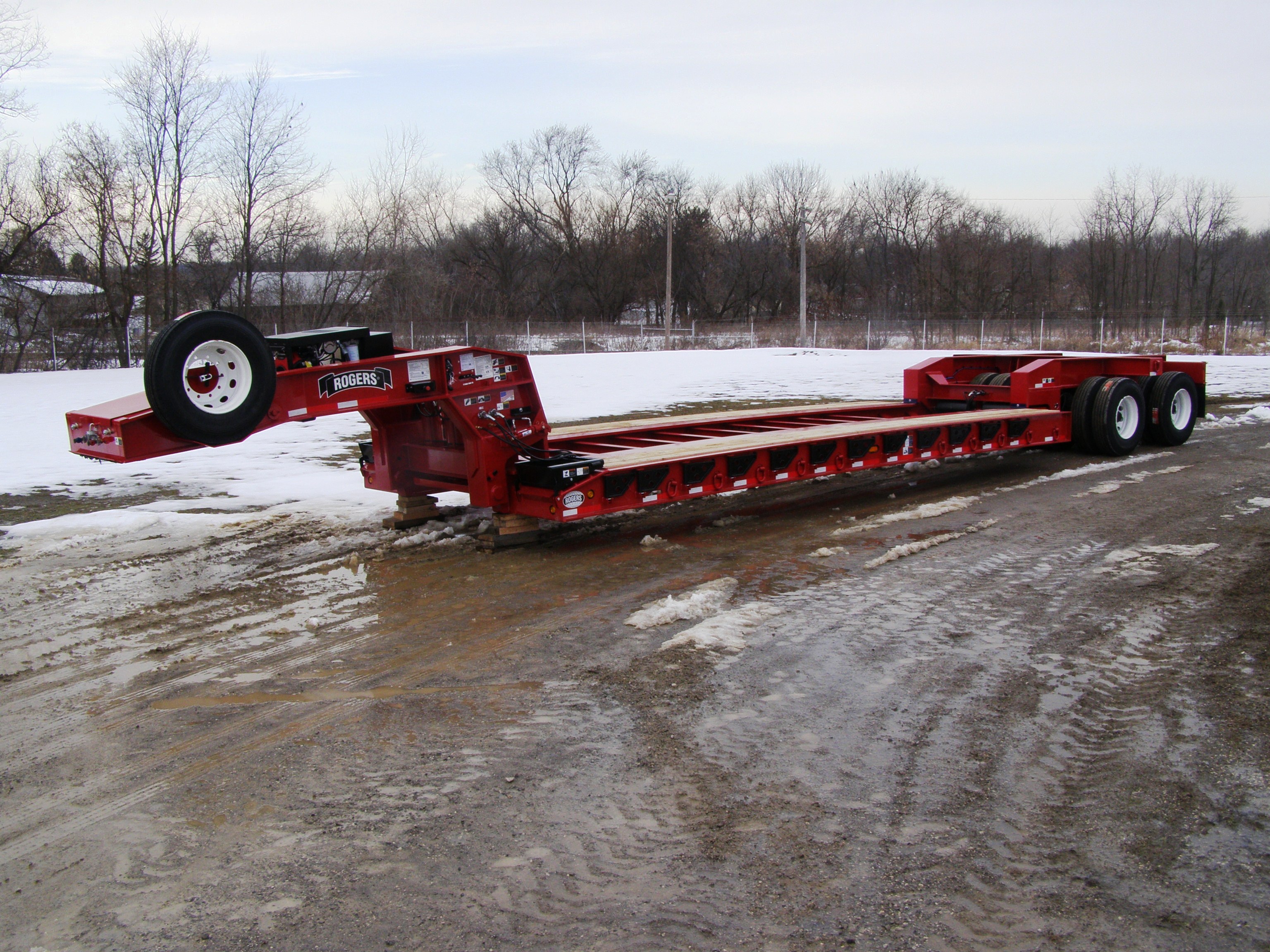 Feature Photo Description
This SP100PL detachable gooseneck trailer has a hauling capacity of 100 tons (91 metric tons) concentrated in 1/2 the deck length. The modular design allows different deck styles to be interchanged with the existing platform deck. This trailer can be custom designed to best suit the customer's needs.
Internal Code
SP100PL110/52/26/134/4XDRCS
Load Con Weight
200,000-pounds (90,718 kilograms)
Suspension
80,000 kg capacity 4-axle cantilever (trunnion/walking beam) suspension unit

Wheels
22.5 x 8.25 10-hole steel disc

Brakes
16 1/2" x 7" shoes, 4S/2M ABS and spring parking brakes

Optional Equipment Bullets
Optional Equipment Link
No Standard Optional Equipment Available
Detail Photo
Detail Bullets

The powerful ram-foot gooseneck uses low hydraulic pressure to safely and reliably lift the load. Hydraulic power is supplied to the gooseneck either by tractor PTO or by the customer specified 23HP Honda gas engine power unit.

The gooseneck is equipped with several optional features: spare tire & wheel carrier, hydraulic trapdoors, gooseneck support jack, and 2" & 3 1/2" reversible kingpin.

12/24v LED lighting with optional amber turn signals and optional back-up lighting .
Request a Quote for 100-ton SP100PL-4XDRCS, Detachable Rear Trailer, Model Code 116-001