88-ton SP88PL, Detachable Gooseneck Trailer
Production Description
This is a custom built trailer. Please contact ROGERS for availability.
Feature Photo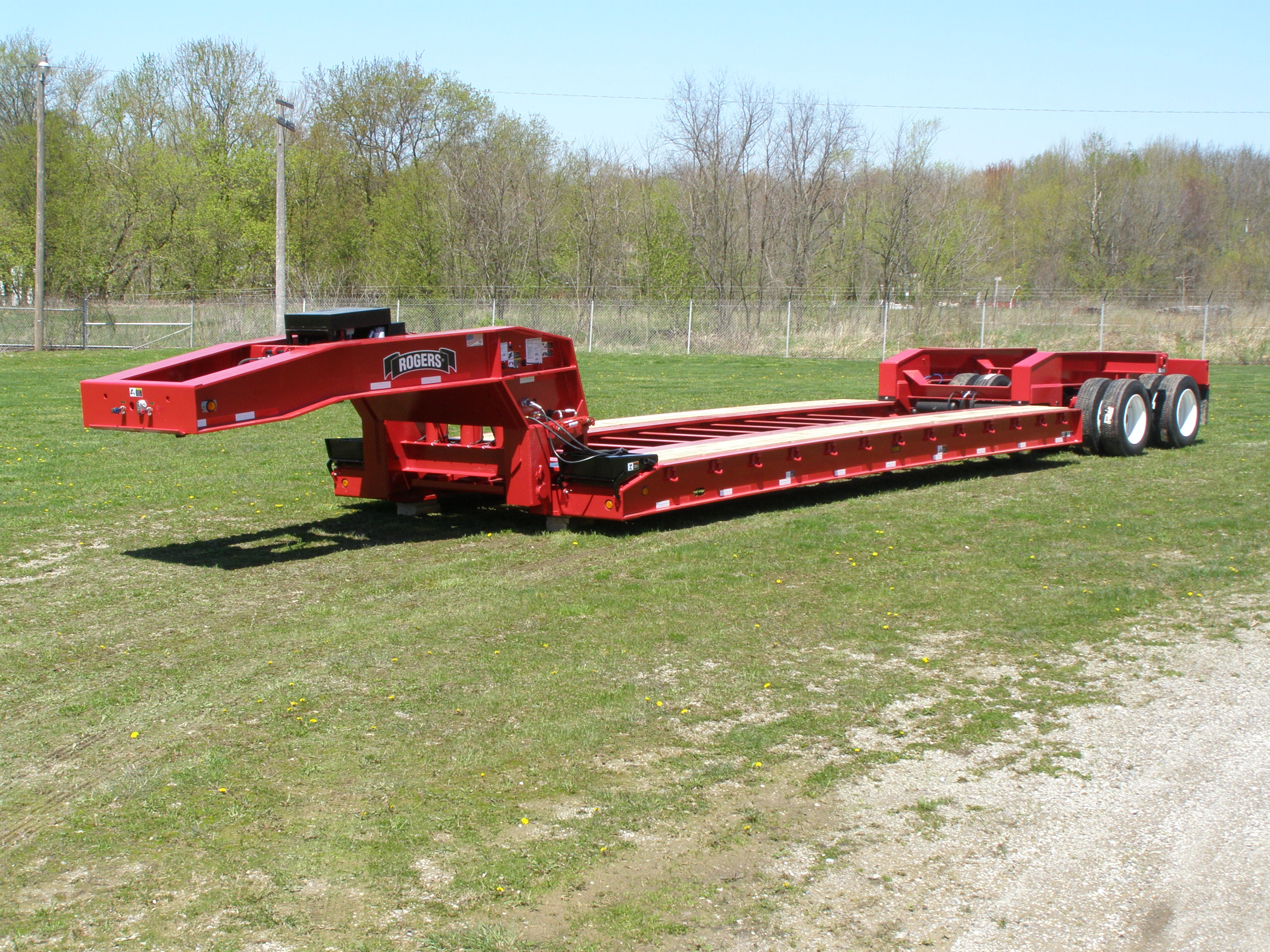 Feature Photo Description
This detachable gooseneck trailer has a hauling capacity of 88 tons concentrated in 1/2 the deck length. The "Bucket Pocket" in the deck and "Boom Trough" between the rear frame beams gives the bucket and stick of an excavator a place to nestle between the wheels and into the deck to improve overhead clearance.
Internal Code
SP88PL110/52/26/132/4XDRCS
Trailer Use
Front Loading: Detachable Gooseneck

Load Con Weight
176,370-pounds (80,000 kilograms)
Suspension
132,277 lb capacity trunnion style suspensions

Axle Type
33,070 lb capacity with grease-filled bearings

Tires
275/70R22.5(H) low-profile tubeless radial

Wheels
22.5 x 8.25 10-hole steel disc

Brakes
16 1/2" x 7" shoes (no ABS)

Standard Feature Bullets
Four beam cambered deck design with 16" main beams


2.75 Air dried oak flooring

22 Bent lashing D's, 11 on each side of deck

"Bucket Pocket" with last 3 cross members lowered between main beams
Optional Equipment Bullets
Steel covered front slope with grouser bars


Steel covered front folding ramps with grouser bars

Bar grating between main beams for storage in first section of deck
Optional Equipment Link
No Standard Optional Equipment Available
Detail Photo
Detail Bullets

"Ram Foot" ground engaging detachable gooseneck
13 HP Honda gas engine power unit with hood and 12-volt battery

Detachable rear frame with hook and shaft connection
"Boom Trough" with lowered cross members between rear frame beams

Trunnion between wheels with lashing D's on each side of the deck
Request a Quote for 88-ton SP88PL, Detachable Gooseneck Trailer, Model Code 075-000