55-ton CN55PL, Detachable Gooseneck Trailer
Production Description
This is a production trailer. Please contact ROGERS for standard availability.
Feature Photo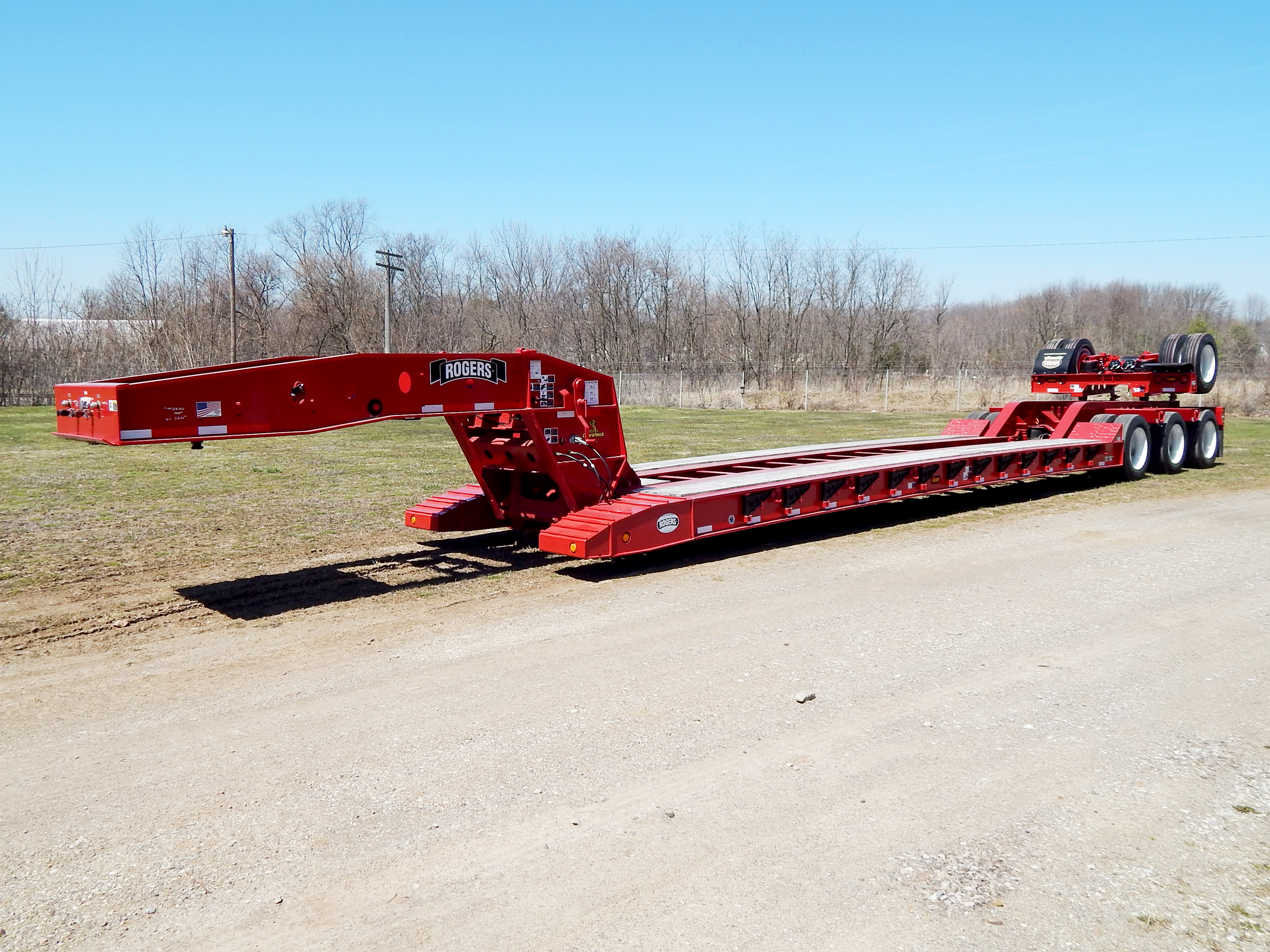 Feature Photo Description
The ROGERS CobraNeck Series CN55PL is a severe-duty 55-ton capacity lowbed semi-trailer that incorporates several enhanced design features into an already impressive trailer specification. This trailer features our newest gooseneck design, the "CobraNeck", that combines readily adjustable deck heights and ease of operation with the performance and durability for which ROGERS is famous. The trailer is designed with a full capacity load concentration in one half the deck length for many years of worry free operation. The deck features a 20" loaded height and the exclusive "Croucher"® front end for easy loading and unloading of equipment. The full-depth "Bucket Pocket" along with lowered cross members combined with the lowered cross members of the "Boom Trough" in the rear frame give lowest possible loading profile for excavators and similar machinery. This model is also structurally designed to be used with a removable/flip 4th axle when required.
Trailer Use
Front Loading: Detachable Gooseneck

Load Con Weight
110,000-pounds (49,895 kilograms)
Suspension
Air Ride 25,000 lb. capacity per axle

Axle Type
25,000 lbs. capacity with oil-bathed bearings

Tires
275/70R22.5(H) low-profile tubeless radial

Wheels
22.5 x 8.25 10-hole steel disc

Brakes
16 1/2" x 7" shoes, 4S/2M ABS and spring parking brakes

Standard Feature Bullets
CobraNeck gooseneck


Hydraulic gooseneck jack with shoe

Hydraulic power source: Tractor PTO

Four-beam cambered design with 20" loaded deck height

14" wide flange main carrying beams made with T1 (A514) flanges

Exclusive "Croucher"® low, tapered front with concealed beam hooks

1 3/4" air-dried oak decking: No center boards

Total (29) removable swinging side brackets

Total (16) bent lashing D's (8 each side of deck)

Additional (6) straight lashing D's (inside trailer deck)

Full-depth "Bucket Pocket" at rear of deck

Arch-type rear frame with sloped bridge ramps

Trunnions between wheels

"Boom Trough" in rear frame

Air lift axle - 3rd axle

LED lights: US DOT-approved 12-volt rubber grommet mounted with sealed wiring and 7-wire socket

Remote air tank drain

Epoxy primer; Rogers Red or Black industrial enamel finish coat
Optional Equipment Bullets
Removable/flip 4th axle (shown)


Gooseneck fenders

13 HP gas engine power unit

Air suspension dump valve

Front folding ramps - wood or steel covered, laterally adjustable

Fixed (welded) front ramp wedges

Toolboxes - can be located in gooseneck of deck

Bar grating installed between main beams for storage.

Center decking boards, installed or loose

Apitong decking

Removable (bolt-on) load bearing wheel covers

Welded, reinforced 1/4" smooth or tread plate wheel covers

Wide/Oversize Load sign and mounting bracket

Aluminum disc wheels

Spare tire & disc wheel

Spare tire carrier mounted on gooseneck

Auxiliary lighting system with deep cycle battery

Stop/turn/tail light package mounted to rear of gooseneck

Backup warning alarm, electronic or mechanical

Other ROGERS and custom paint colors available
Optional Equipment Link
No Standard Optional Equipment Available
Detail Photo
Detail Bullets

ROGERS CobraNeck gooseneck features easy to adjust deck/5th wheel heights and simple operation.

The maximum depth "Bucket Pocket" gives the lowest loading profile available for loading excavators on the platform deck.
This loading profile is continued to the rear of the trailer with the "Boom Trough" constructed of lowered cross members in the rear frame.

Optional fixed (welded) extensions provide permanent ramps to the "Croucher"® tapered front of the trailer deck.

Front folding ramps are available in a variety of styles. Shown are steel covered heavy-duty ramps with welded grousers to provide additional traction.
Request a Quote for 55-ton CN55PL, Detachable Gooseneck Trailer, Model Code 584-009