25-ton TAG25XXL-AL Air Ramps, Tag-Along Trailer
Production Description
This is a production trailer. Please contact ROGERS for standard availability.
Feature Photo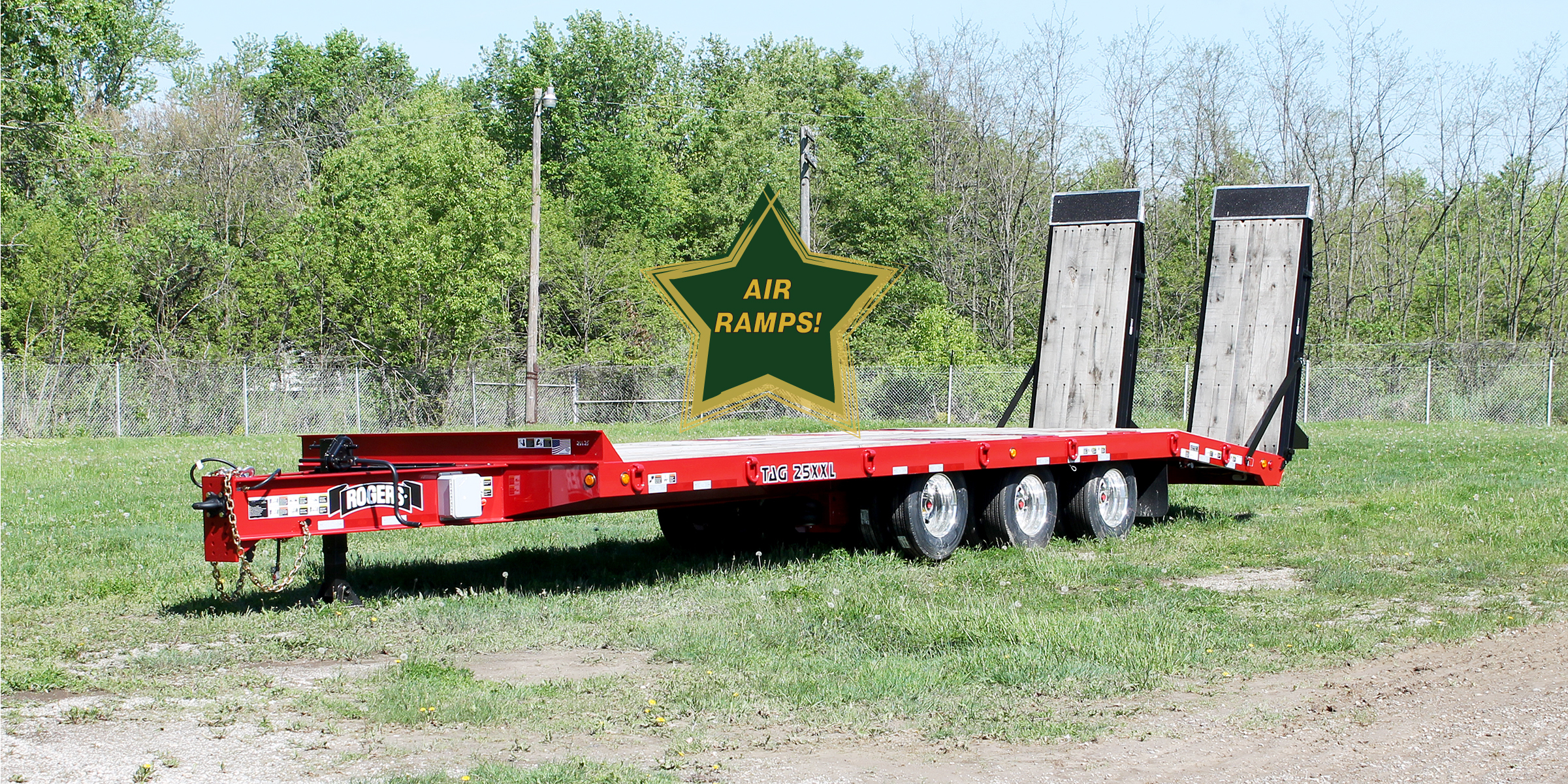 Feature Photo Description
The ROGERS TAG25XXL-AL trailer features a longer 24'-0" x 8'-6" platform deck for increased load space and versatility. Brand new design Air-powered ramps take the heavy lifting out of loading and unloading the trailer. The front axle of the trailer is mounted to an air suspension that is liftable and can have its axle-load set by the operator. Exclusive 80" long drawbar provides better load distribution to your truck for a smoother, safer ride. Optional aluminum outer disc wheels shown.
Load Con Weight
50,000-pounds (22,680 kilograms)
Suspension
44,800 lb. capacity tandem axle heavy-duty multi-leaf 4-spring + 22,000 lb. capacity single axle air suspension on front lift axle

Axle Type
22,500 lbs. capacity with oil-bathed bearings

Tires
215/75R17.5(H) low-profile tubeless radial

Wheels
17.5 x 6.75 8-hole steel disc

Brakes
12 1/4" x 7 1/2" shoes, 4S/2M ABS and spring parking brakes

Standard Feature Bullets
Front axle air suspension with axle air lift


Heavy-duty spring suspension on rear two axles

215/75R17.5(H) low profile tires on 17.5 x 6.75 hub piloted steel disc wheels

Air powered loading ramps, 84" long x 38" wide, oak covered

High capacity two-speed landing gear

Six-position pintle eye with 66,000 lb. capacity

Fourteen (14) standard lashing D's - seven (7) per side

Oak-covered 6'-0" long beavertail with 8 degree load angle

US DOT 12-volt LED lighting with sealed wiring system and 7-wire socket
Optional Equipment Bullets
12" aluminum ramp wedge extensions for 96" overall ramp length


Double landing gear package

Additional lashing D's

235/75R17.5(H) low profile tires

Aluminum disc wheels in lieu of steel

Spare tire carrier

Mechanical backup warning alarm

Many more options available!
Detail Photo
Detail Bullets

Air powered ramps are 84 inches long and are oak-covered.
They feature a 15 degree incline for save and easy loading of machinery.
Twelve inch aluminum extension is available to extend ramp length to 96 inches.

At 38 inches wide, these ramps are wide enough to load equipment of various sizes.

The front axle of the trailer is mounted to an air suspension.
The axle can be lifted off the ground when load conditions allow for easier maneuverability.

A box mounted to the side of the drawbar contains the air controls for the front axle.
A load scale chart allows the operator to set the air pressure on the front axle to carry the desired weight.

The drawbar front plate is now located lower on the trailer frame for additional clearance and has six mounting positions for the towing eye.
The locking plate for the safety chain mounts can be removed and reinstalled to make it easier to adjust the safety chain lengths to better fit the tow vehicle.
Request a Quote for 25-ton TAG25XXL-AL Air Ramps, Tag-Along Trailer, Model Code 413-012