21-ton TAG21XXL Air Ramps, Tag-Along Trailer
Production Description
This is a production trailer. Please contact ROGERS for standard availability.
Feature Photo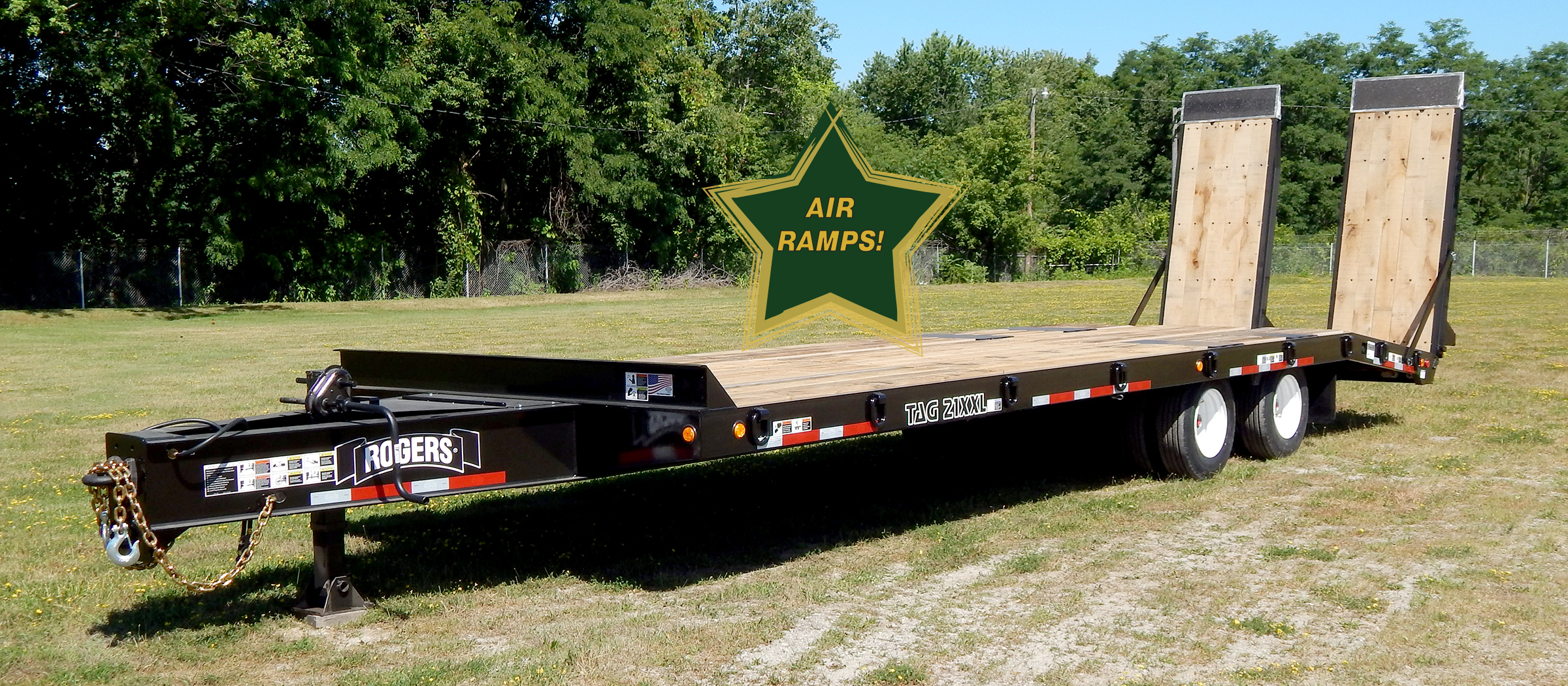 Feature Photo Description
The ROGERS TAG2XXL trailer features a longer 24'-0" x 8'-6" platform deck for increased load space and versatility. Brand new design Air-powered ramps take the heavy lifting out of loading and unloading the trailer. Exclusive 80" long drawbar provides better load distribution to your truck for a smoother, safer ride. Optional aluminum outer disc wheels shown.
Load Con Weight
42,000-pounds (19,051 kilograms)
Suspension
44,800 lb. capacity tandem axle heavy-duty multi-leaf 4-spring

Axle Type
22,500 lbs. capacity with oil-bathed bearings

Tires
235/75R17.5(H) low-profile tubeless radial

Wheels
17.5 x 6.75 8-hole steel disc

Brakes
12 1/4" x 7 1/2" shoes, 4S/2M ABS and spring parking brakes

Standard Feature Bullets
Flat platform deck

Full 1-3/4" air-dried oak decking

Drawbar with 6-position adjustable pintle eye

Two-speed landing gear

Drawbar toolbox with steel lid, behind landing gear

Total (14) standard lashing D's - (7) per side

Tread plate wheel covers

Oak-covered 8º sloped beavertail

Oak-covered "E–Z Air" loading ramps, air operated, 72" long x 38" wide

Steel disc wheels

LED Lights: US DOT-approved 12-volt rubber-mounted with sealed wiring and 7-wire socket

Remote air tank drain

Epoxy primer; Rogers Red or Black industrial enamel finish coat: (hover to see samples)
Optional Equipment Bullets
Two-speed double landing gear package

Spare tire carrier

Additional standard lashing D's

Ramp wedge extensions

Aluminum disc wheels

Mechanical backup warning alarm

Other Rogers finish colors: (hover to see samples)
Detail Photo
Detail Bullets

A large toolbox with lockable steel lid located in the drawbar provides ample storage for chains, binders, tools, etc. The heavy-duty two-speed landing leg has a lift capacity of 50,000 lbs. and a static capacity of 70,000 lbs.

The 80 inch long drawbar provides improved weight distribution and superior handling. Safety chains are integral to the drawbar frame and are easily adjustable to properly fit the towing vehicle.

Air powered ramps are 84 inches long and are oak-covered.
They feature a 15 degree incline for save and easy loading of machinery.
Twelve inch aluminum extension is available to extend ramp length to 96 inches.

At 38 inches wide, these ramps are wide enough to load equipment of various sizes.

Remove the ramp lock bars and a simple pull of the valve lowers the ramps to the ground.
Request a Quote for 21-ton TAG21XXL Air Ramps, Tag-Along Trailer, Model Code 408-013