60-ton SP60GR-3XAR, Detachable Gooseneck Trailer
Production Description
This is a custom built trailer. Please contact ROGERS for availability.
Feature Photo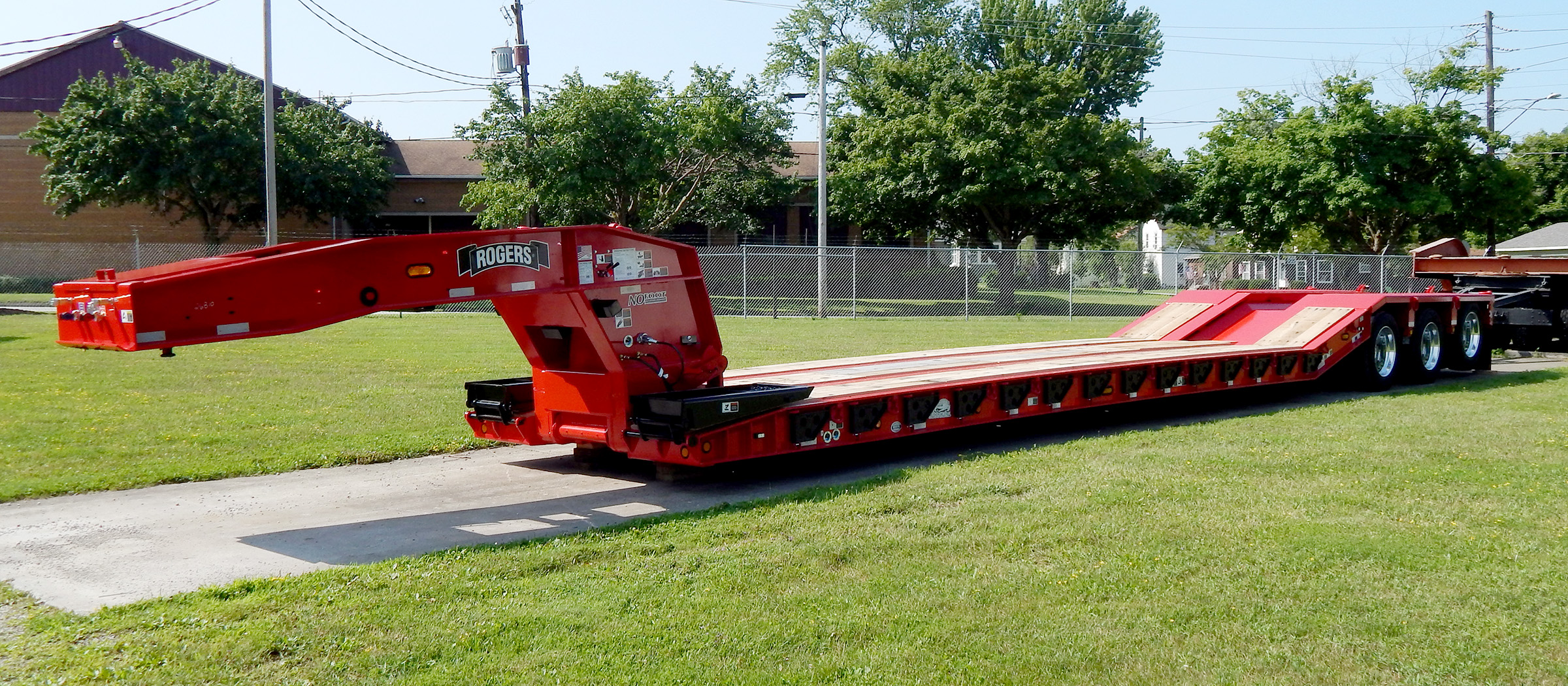 Feature Photo Description
This custom designed 60-ton "Gentle Riser"® detachable gooseneck lowboy is loaded with features and optional equipment! It has our exclusive tower style "No Foot"® non-ground bearing gooseneck with optional heavy lift package for extreme duty operation. The trailer deck features the easy to load "Croucher"® front slope, cambered platform deck that is 26 ft. long x 8'-6" wide, the ROGERS "Gentle Riser"® that provides a easy to load 17° load angle from the deck to the rear frame load area. Smooth ride air suspension features multiple ride heights, a dump valve, and an air lift 3rd axle.
Trailer Use
Front Loading: Detachable Gooseneck

Load Con Weight
120,000-pounds (54,431 kilograms)
Suspension
Air Ride 25,000 lb. capacity per axle

Axle Type
25,000 lbs. capacity with oil-bathed bearings

Tires
275/70R22.5(H) low-profile tubeless radial

Wheels
22.5 x 8.25 aluminum outside/steel inside

Brakes
16 1/2" x 7" shoes, 4S/2M ABS and spring parking brakes

Standard Feature Bullets
Platform deck 26'-0" x 8'-6" with 20" loaded deck height


"Croucher" front approach with tapered beams and flush beam hooks

14" deep cambered main beams fabricated with high yield 100ksi steel

Dual-arm hydraulic gooseneck support jack with shoe

Axle spacing 54 ½"

Hydraulic power source: Truck PTO

Full 2" air-dried oak decking

Side member flange reinforcing

Twenty-eight (28) severe-duty swinging removable side brackets

Sixteen (16) bent lashing D's - eight (8) each side of deck

"Bucket Pocket" with last three (3) cross members lowered between main beams

"Gentle Riser" 17° oak-covered incline to rear frame

3/8" tread plate wheel covers, reinforced

3/8" smooth plate lowered center cover plate up riser to rear channel

Trunnion beams between wheels with lashing D each end

Air suspension - 25,000 lb capacity with mechanical height control

Suspension dump valve

Air lift on 3rd axle

Premium 4S/2M antilock braking system with spring parking brakes

LED LIghts: US DOT 12-volt rubber grommet mounted

Sealed wiring system with 7-wire socket

Epoxy primer: Rogers Red or Black polyurethane enamel topcoat
Optional Equipment Bullets
Extra-long wood covered front folding ramps, laterally adjustable with tapered front wedge


Six (6) vertical gussets, three (3) each side of front slope

Full length side member flange reinforcing, including "Gentle Riser"

Wood-covered toolboxes - front and rear center of deck

Steel-covered toolbox - front center of gooseneck

Custom center board decking installation

Inserts for "Bucket Pocket" to support center boards

Additional standard and/or bent lashing D's

Strobe light package with toggle switch

Additional marker/clearance and/or turn lights

Work lights on gooseneck with toggle switch

Detail Photo
Detail Bullets

Toolbox with lockable steel cover on top of gooseneck.

Optional LED work lights with toggle switch. Three total - one each side and one underside of gooseneck.

Wood-covered front folding ramps are laterally adjustable and extra long to minimize approach angle when loading or unloading machinery.

Optional vertical gussets and side member flange reinforcing on front slope.

Severe-duty swinging removable side brackets.

Gentle Riser features a 17 degree incline to access the loadable area on the rear frame.
Request a Quote for 60-ton SP60GR-3XAR, Detachable Gooseneck Trailer, Model Code 669-035