35-ton PT35L Air Ramps, Fixed Gooseneck Trailer
Production Description
This is a production trailer. Please contact ROGERS for standard availability.
Feature Photo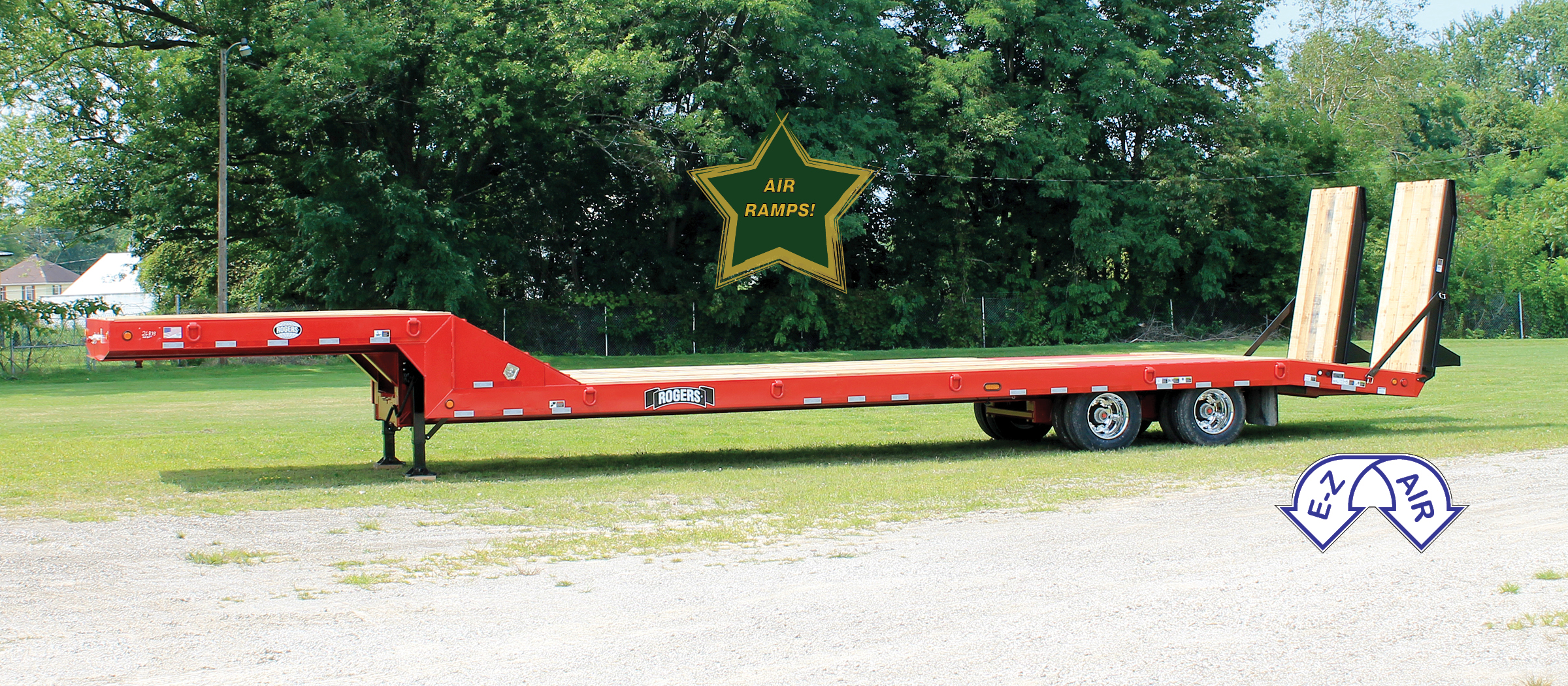 Feature Photo Description
The brand new ROGERS PT35L is a trailer designed to haul multiple machines with the paving contractor in mind. It combines the conveniences of a rear loading style with "E-Z Air" air operated ramps, a spacious level deck and sloped access to the full-width gooseneck for additional loading surface.
Trailer Use
Rear Loading: Fixed Gooseneck

Load Con Weight
70,000-pounds (31,751 kilograms)
Suspension
Air Ride 25,000 lb. capacity per axle

Axle Type
25,000 lbs. capacity with oil-bathed bearings

Tires
235/75R17.5(H) low-profile tubeless radial

Wheels
17.5 x 6.75 8-hole steel disc

Brakes
12 1/4" x 7 1/2" shoes, 4S/2M ABS and spring parking brakes

Standard Feature Bullets
Flat platform deck

Full 1-3/4" air-dried oak decking

10'-0" x 8'-6" oak-covered platform top of gooseneck

Gooseneck swing radius: 91"

Gooseneck 5th wheel height: 51" light

Heavy-duty two-speed landing gear set

29° slope from deck to gooseneck - 4'-0" long steel covered w/grousers

Full-width lockable toolbox in gooseneck slope area

Toolbox underside of gooseneck with lockable steel lid

Wood-covered toolbox in gooseneck over king pin

Air suspension with dump valve for loading/unloading

Oak-covered beavertail - 65" long with 7° slope

Oak-covered "E-Z Air" loading ramps, air operated, 72" long x 38" wide

Steel disc wheels

Total (14) standard lashing D's - (7) per side

LED Lights: US DOT-approved 12-volt rubber-mounted with sealed wiring and 7-wire socket

Remote air tank drain

Epoxy primer; Rogers Red or Black polyurethane enamel finish coat: (hover to see samples)
Optional Equipment Bullets
Aluminum disc wheels - outer only


Additional lashing D's

Mechanical backup warning alarm

Apitong decking in lieu of oak

Rumber decking in lieu of oak

Other ROGERS paint colors available
Detail Photo
Detail Bullets

The 84-inch long oak-covered loading ramps provide an easy-to-climb 13-degree load angle.

Optional 12-inch aluminum extensions lengthen the ramps to 96-inches.

Ramps are extra-wide at 38-inches for the easy loading of various machines.

The oak-covered beavertail has a 7-degree load angle to the platform deck.

Air-suspension dump valve and E-Z Air operation valve are conveniently located on the road side of the beavertail.

The trailer air suspension provides a smooth and stable ride.

Both axles are equipped with spring parking brakes and a premium 4S/2M anti-lock braking system.

Optional aluminum disc wheels (outer only) are shown.

Heavy-duty two speed landing gear set and lockable steel-covered toolbox under the gooseneck are standard equipment.

The 48-inch long x 29-degree slope deck to gooseneck ramp provides easy access to the load surface on top.

Under the ramp is a full-width storage area with lockable doors on each side of the gooseneck.
Request a Quote for 35-ton PT35L Air Ramps, Fixed Gooseneck Trailer, Model Code 443-001